Frederick County
Legislative Breakfast
This year, LWVFC is reviving a popular League event that we cancelled in recent years due to Covid. 
On Dec. 2, LWVFC members are invited to the 2023-24 Legislative Breakfast at Grace United Church (25 East 2nd St, Frederick). The event will begin at 7:30 a.m. with pre-breakfast networking.
Breakfast will be at 8 a.m. followed by presentations by our Frederick County General Assembly Delegation who will share their legislative agenda with us before they depart to Winchester Hall for the annual Delegation Hearing.
Of the 10 delegates and three state senators who represent Frederick County, so far six have indicated their intention to attend the LWVFC Legislative Breakfast, including:
Additional delegates and/or senators are expected to confirm participation prior to the event. Other Frederick County officials including County Executive Jessica Fitzwater also plan to attend. She will speak about county initiatives. 
LWVFC will collect a fee of $10 at the door from attendees (cash or check).  RSVP at this link:
https://forms.gle/uqWFtuPKsFjPMhqp9 
League of Women Voters Forum
on Ranked Choice Voting
On Nov. 29. the LWVFC hosted a forum on Ranked Choice Voting at the C. Burr Artz Library, with a Zoom option. The event was very well received and well attended. Approximately 60 people attended in person and approximately 10 attended via zoom to hear these experts discuss Ranked Choice Voting: 
Barbara Wagner, Director, Frederick County Board of Elections
Jeremy Rose, Evidence & Learning Manager, FairVote
Walter Olson, Cato Institute Senior Fellow; author on numerous legal, public policy, and regulation topics
Sara Malec, Associate Professor of Mathematics, Hood College
Stuart Harvey, Frederick City Charter Review Committee member; retired director, Frederick County Board of Elections 
Ranked Choice Voting is a method of selecting candidates whereby voters indicate their first, second, and third choices. If no candidate receives at least 50 percent of the votes, the candidate with the lowest number of votes is dropped, and voters' second choices are then assigned to the remaining candidates. This process repeats until a candidate with an absolute majority emerges.
Please use the following links to view the LWV Forum on Ranked Choice Voting on line:
Facebook: https://fb.watch/oJV4-7J4Yx/ or
https://www.facebook.com/FrederickCountyLWV/videos/1551397278996310
YouTube: https://youtu.be/lV-WBU_6yBw
The League of Women Voters of Frederick County
The League of Women Voters is a nonpartisan, but political, organization. We encourage the informed and active participation of citizens in government, work to increase understanding of major policy issues, and influence public policy through education and advocacy.
The League also takes positions on issues as varied as ranked-choice voting, affordable housing, distracted driving and local control of education but we do not support or oppose any political party or candidate for public office. 
The League provides voters with non-partisan information on all candidates for every election in the Voters'™ Guide, at Vote411.org and via candidate forums. Working with the County Board of Elections, League members serve as polling-place evaluators and sometimes election judges. The League also has a presence at many community events where we help people register to vote and provide other voting-related info. 
The 2024 Elections Are Coming
Save these dates to plan when you will vote!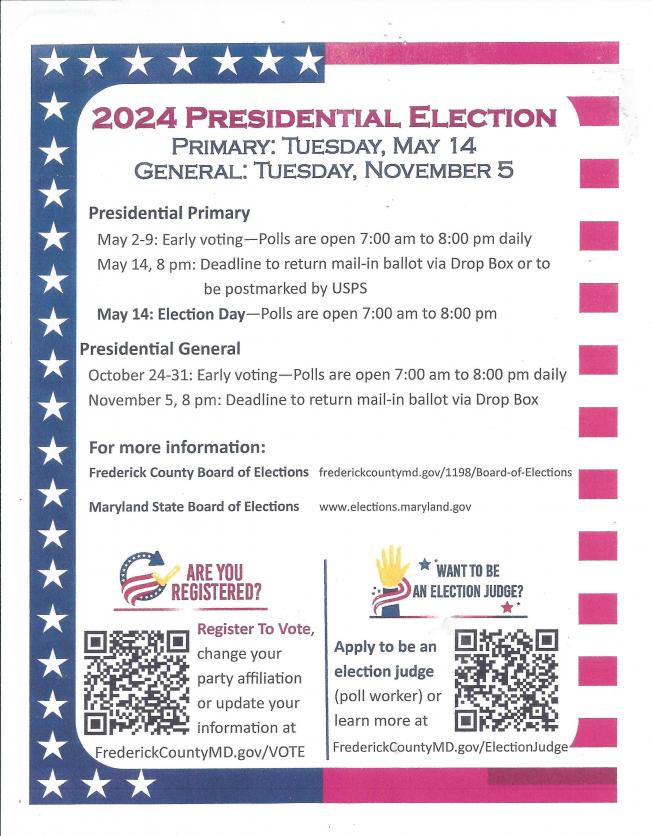 VOTE 411 is Live!
The League of Women Voters of Maryland is proud to offer
VOTE411.org,
a place where people can get all their information regarding candidates for every office in every county in Maryland.
The League of Women Voters of Maryland still has you covered for the 2024 election season. Because VOTE411 is still live at 
https://bit.ly/3NiAL8D,  and will be updated as we get the 2024 ballots! 
With the constant changing of dates, times, locations, etc., it is important that people have access to the most up to date and accurate information available from sources they can trust.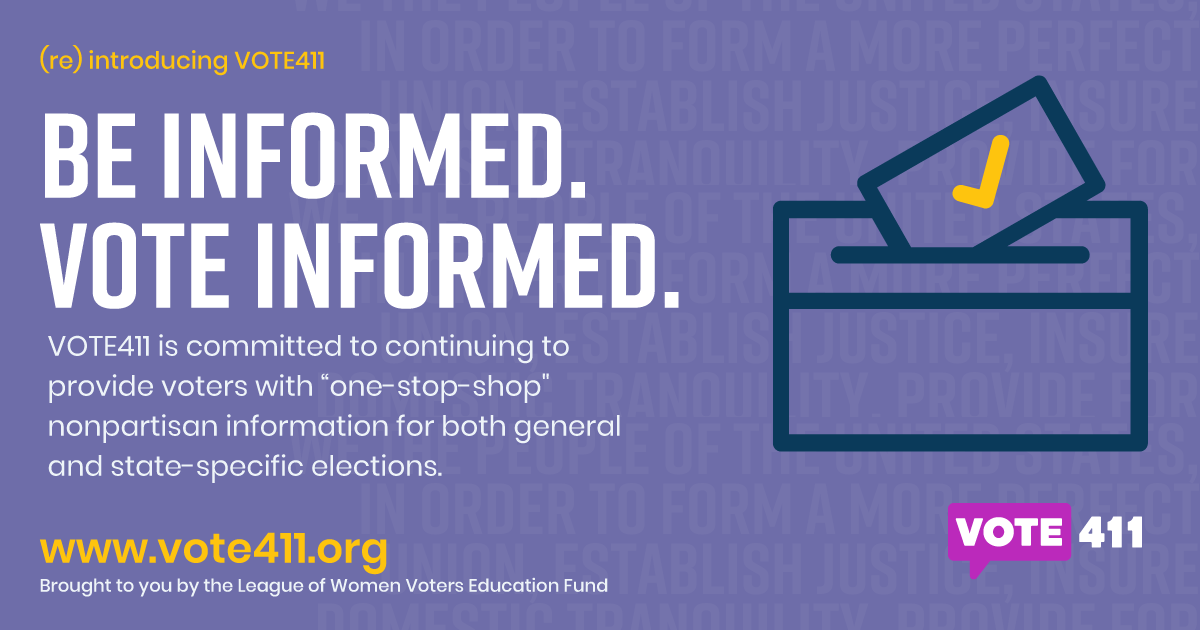 Solidarity
People from all over this country have exercised their First Amendment rights as they protest the killing of George Floyd and the countless other Black lives that have been taken at the hands of police.
We come to the table as allies, focused on creating systemic change in our government institutions, starting with unjust policing. We join people of every race, religion, and ethnic background, who kneel in solidarity with the Black community with the same message—Black Lives Matter.